With today's increase emphasis on the "war on drugs," more and more businesses must perform drug testing to ensure a safer environment for their employees. The most pressing issue for the employer is how to implement drug testing and who to utilize for providing this service.
---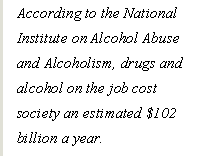 Substance Abuse Medical Services takes an innovative approach in providing employee screening services. We have the flexibility to meet the needs of business regardless of size, to respond to the demand of an increasingly mobile and globalize workforce.
Substance Abuse Medical Services unparalleled experience can help reduce company's exposure to risk with comprehensive screening service and employee health management solutions
To contact Substance Abuse Medical Services, you may call our toll free number or fill out the request form to receive pricing and/or information on our services.
Telephone

866.243.9560

Electronic mail

General Information: info@sameds.com
Webmaster: webmaster@sameds.com